Read Time:
3 Minute, 24 Second
Amazon Prime is jam-packed with content that can often make the task of sifting through it laborious at the best of times, and frankly, often you can end up landing on a dud.
However, over the years their variety of original TV series has received well-earned critical acclaim and cleaned up during the awards season, furthering the dominance of the platform among the other streaming services.
Late in 2020, Amazon Prime released a British horror/sci-fi hybrid that somewhat flew under the radar even though it was lead by the always funny UK duo of Nick Frost and Simon Pegg, as well as, a cast of hilarious newcomers that made the whole thing a hidden gem that is a paranormally fun must-see.
Truth Seekers (2020)
Available on Amazon Prime
First off, you will be hard-pressed to find a horror series that is this light and easy to watch but is somehow able to pack some legit scares in the process, it's a rarity that knocks it out of the park within both realms.
This ghostly blast of peak English humour is not only an unpredictable mystery, but it also has some of the best side characters you would expect alongside the comedic duo of Frost and Pegg.
If you're a fan of the famed Cornetto Trilogy (Shaun of the Dead, Hot Fuzz, and World's End) then there really is no excuse to not already have this show on your watch-list, as it hits all the marks of the three movies, while additionally being a homage to classic horror and science fiction films.
Another excellent aspect of the series is the attention to detail placed into the spirits and entities which play a major role as both antagonists and aids to the heroes, for a comedic show the paranormal aspect was visually stunning and on par with more dramatic horrors.
But above all, the best part of this series comes from a relatively new face who is becoming a staple in British comedy TV lately and hopefully gets even more screen time.
Playing the character of Helen is Susan Wokoma, who may look familiar to you as she's been in a lot of British series lately most notably: Chewing Gum, Year of the Rabbit, and recently had a small role in the 2020 Netflix film Enola Holmes.
Wokoma alone is enough to watch the show because her every line of dialogue is delivered with perfectly timed wit, charm, charisma, and yet with all those attributes she isn't just added for further comedic relief.
Helen is a character that works as a perfect mirror of horror and geek fandom placed into the peculiar nature of the show, which makes her easy to attach to if you're a cinephile that loves obscure movie references and awkward one-liners.
Additionally, her chemistry in the series with living legend Malcolm McDowell makes for some of the best buddy humour and a heartwarming friendship that plays hilarious off of each other's differences.
Finally, to round it all out, actors Emma D'Arcy and Samson Kayo seamlessly created a flawless trio alongside Nick Frost to carry a bulk of the series' heavy lifting in terms of landing every joke and keeping the entire thing interesting as the bonkers mystery unfolds piece by piece.
The, unlike tripod, are enigmas that slowly reveal twists both within the show and their characters, making the series almost impossible to be bored by any moment, and left me dying for more when the last episode credits began to roll.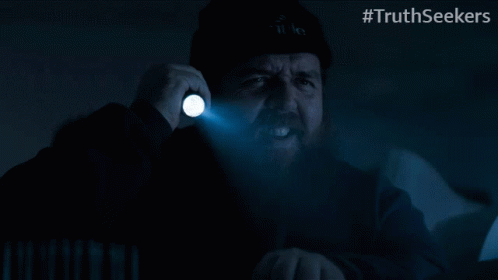 If you're looking for a quick watch with a lot of laughs that will keep you guessing, this 8 episode mixed bag of weirdness only takes just over 4 hours to watch in its entirety. So get on it!
The short episodes seem to pack a lot in, but they never drag and would make for a great rewatch due to a lot of the minor things you may miss in the first time around.
Happy Viewing!