Read Time:
5 Minute, 1 Second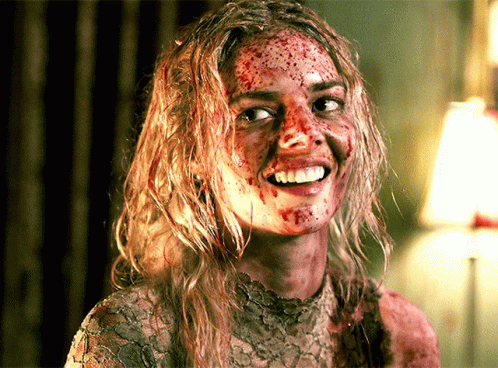 Previous eras of horror were elevated by the legendary scream queens who battled iconic monsters, but now, there are those who believe that modern movies of the genre have lost those memorable characters.
Personally, I beg to differ.
Modern horror is filled with some of the finest acting talents, and some of the best performances in the genre belong to our new wave of scream queens.
Since it's Women in Horror Month, here is a trio of women who have been present in multiple great films in the genre, who have also played both roles as monsters and the queens who slayed them throughout their careers.
The Modern Scream Queens
Jane Levy
When Jane Levy is in a horror movie it is usually an indication that some sort of gruesome fate awaits her character, and not in the light PG-13 way that most can stomach.
In 2013 she starred in Fede Alvarez's reboot of the Evil Dead, and after only one performance in the genre, she was already dubbed horror royalty by fans of the film.
The role of Mia showed Levy as both hero and villain, as she begins the film as a drug-addicted struggling to get sober before becoming possessed by a demonic entity.
Three years later in 2016, Levy came back to horror with another Alvarez film Don't Breathe, that set her against a super-skilled blind man willing to do anything to protect his home (and secrets) from a pack of intruders.
On paper that movie sounds odd, but Levy shines as a reluctant hero trying to escape the chaotic danger her character ends up in, and a promised sequel is eagerly awaited by fans of the first film.
Anya Taylor-Joy
Production company A24 is known for its interesting horror films, and the star-making performances that come out of them.
One of the most notable films from their roster is Robert Eggers' The VVitch starring Anya Taylor-Joy in an Oscar-worthy performance.
This was Taylor-Joy's first feature film lead role, and it is one that none of us will soon forget.
In the stunning 17th century set period piece, Taylor-Joy's acting skills were put to the test in the role of Thomasin, the eldest daughter of English settlers who were banished over a religious dispute.
After the critical success of the movie, Taylor-Joy starred in the sci-fi horror Morgan which was a departure from the slow burn and dive straight into a more action-based role.
Critics weren't as excited with this movie, but in my humble opinion, Taylor-Joy definitely made it an enjoyable experience and one that I still recommend to anyone who is a fan of multi-genre action.
Taylor-Joy will be returning to horror again in the upcoming dark superhero film The New Mutants, which is finally being released after numerous re-shoots delayed its original 2018 theatrical debut.
Samara Weaving
Charming Aussies are no strangers to Horror and science fiction when it comes to kicking ass in heroic roles, but Samara Weaving is one that truly stands in a league of her own.
Often starring in hyper-violent comedic horror movies, calling Weaving a scream queen feels like an understatement when considering her brutal performances.
In 2017's Mayhem, Weaving starred as Melanie Cross an office worker trying to survive her infected co-workers who have been turned into psychotic killers.
As with many of Weaving's film choices, this movie was an absolute blast to watch and her chemistry with her co-star Steven Yeun made me wish that it was a TV series as well.
Later that year Weaving took on another fun role but this as of an evil babysitter looking to make a human sacrifice in the horror comedy Babysitter. As always, Weaving was her charming self and even as a bad guy, you can't help to root for her.
2019 provided Weaving with the most iconic horror role of her career in the much loved film Ready or Not.
I can safely say, that I don't think anybody quite expected a film about hide and seek to turn out as perfectly as this one did.
It was simple in concept, brutal in delivery, and Weaving was unquestionably the best part of an excellently crafted film.
Her portrayal of the character Grace was one of the best horror roles in 2019, and it was one that even caught the attention of audiences outside of the genre.
Up next for Weaving, she stars in the off the rails action movie Guns Akimbo which has her looking completely unrecognizable as character named Nix.
She'll be a gun-totting force of a nature hunting down Daniel Ratcliffe who has pistols bolted to his hands, and if the movie is as chaotic as the trailer, it'll be another jewel in Weaving's crown.
Yea, that's definitely one I'm personally excited for.
As the film industry continues to wage a content war between streaming services and theaters, the amount of breakout horror stars over the years has significantly increased.
With indie films now on par with their studio counterparts, new legendary heroes are birthed into the horror genre every year, and audiences everywhere are usually given new royalty from the up and coming stars.
With more and more movies coming out, and the level of acting being raised every year, our modern scream queens are part of the reason why horror is continuing with its success across multiple budgets.
Until next time, Happy Women in Horror Month!