Read Time:
4 Minute, 51 Second
In the horror and sci-fi genres a great acting performance can really tip the scale of what makes the movie or series stand the test of time.
As spoiled audiences, it isn't enough anymore to just scare us with a terrifying CGI ghost or a knife-wielding killer; and because of this some of Hollywood's best are now choosing stranger roles in darker cinema.
The most talked-about performances, in any genre, are the roles of actors playing more than one character in a single project.
Multiple roles are not a new thing in acting and often we're used to seeing them happen in various popular dramatic or comedic projects, but recent standouts in modern horror and sci-fi have really dropped genre fans jaws.
Modern Marvels
Tilda Swinton in Suspiria (2018)
Roles: Madame Blanc, Mother Helena Markos, and Dr. Josef Klemperer
When it comes to film, there are very few hills I will die on; with that said, Tilda Swinton is one of the best actors to have ever lived.
Swinton has nearly 100 roles onscreen and it honestly feels like she may be getting better with every timeless performance.
In 2018, she further solidified my personal belief with a three-part role in one of the best horror remakes in modern history.
For those who have not yet experienced the film, trust me, seeing truly is believing, Swinton's role as Dr. Josef Klemperer was an Oscar snub and a legendary performance.
Swinton's male role was kept in production secrecy and it wasn't until almost a year after the film was released that she came forward with the revelation that she played the mysterious third character.
Her legend continues to blossom onscreen and in real life.
Tatiana Maslany in Orphan Black (2013 – 2017)
Roles: Roles: Sarah Manning, Alison Hendrix, Cosima Niehaus, Helena, Rachel Duncan, Beth Childs, Veera Suominen, Krystal Goderitch, Katja Obinger, Tony Sawicki, Jennifer Fitzsimmons, Camilla Torres, and "Church Clone"
Tatiana Maslany played various different clones in this Canadian sci-fi series that was both weird in concept, and brilliantly odd in execution.
Almost every scene of the entire series had an alternate version of Maslany on screen, and she pulled it off so effortlessly that when you're watching it there is actually a vivid diversity between her cloned characters.
As a geek, I have seen clones before multiple times on the small screen in various sci-fi shows, but never has it been executed to this level of perfection.
Some of Maslany's best work in the series was when she played one clone acting as another one.
Even saying that feels like a lot, but how she managed to bring it life was something that may never be duplicated.
Sadly, all good things must come to an end, and after 50 episodes on a 5 season run, Maslany's days of playing multiple clones came to an epic conclusion.
If you're looking for a series to binge, I highly recommend this weird and fun ride.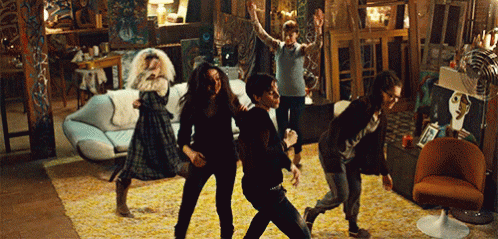 Lupita Nyong'o in US (2019)
Roles: Adelaide Wilson & Red
There were multiple actors playing dual roles in Jordan Peele's sophomore film, but the obvious standout to me was Oscar winner Lupita Nyong'o.
Not only did she convey such a difference in performance between the two lead characters, the scenes that had her playing both at the same time were some of the best in the entire film.
Her combination of being vulnerable as one character and an ultimate fearless terminator in another was stunning, frightening, and an unparalleled acting role that only she could have played.
Nyong'o is one of those actors that is consistently great in whatever she's in, regardless of the genre, but this pure disappearance into both the hero and the villain can only be described as sheer fucking magic.
D'arcy Carden in The Good Place (2016-2020)
Roles: Janet, Bad Janet, and various other Janet hybrids
A comedic sci-fi series making this list may seem a bit out of sorts, but The Good Place is no average show and D'arcy Carden is the definition of a scene-stealer.
Throughout the series, Carden's character of Janet was hilarious, quirky, and had some of the best lines in the 4 year run of the show, but in the 3rd season in episode 9 titled Janet(s) she really put her skills out in full display.
Without providing spoilers to those who haven't seen it, I'll just say due to a number of unfortunate events Carden ended up acting out the roles of the 4 other leads in the series as well as her own character… and it was funny, yet also so hard to wrap my head around.
As fun as it was to watch as a fan of the show, it was a mind-blowing feat of acting that may have been some of the best for any series so far this year.
To suspend audience disbelief in any project is a skill within itself, but to do it while playing multiple characters is a top tier talent.
Whether its doppelgangers, clones, alternate timelines, or just a completely different character entirely, Hollywood studios are always happy to give us a double (or triple) dose of the actors we love the most, but not every time is a homerun.
So, when these experimental roles work out so flawlessly, it's a blast to watch in awe and usually makes for a great addition to the show or movie.