Read Time:
4 Minute, 15 Second
Are you a Horror Modernist or a Horror Purist? Maybe you're both, let's discuss.
I've always seen horror fandom as somewhat of a spectrum when it comes to the actual people who love the medium, breaking them down into specific groups seemed to be the easiest way to describe the furthest of each end.
So, for sake of this page and people who keep hearing me use these terms, this will be a breakdown in the simplest terms.
A Horror Modernist refers to a fan of the modern film genre and the themes that they typically encapsulates. Modern horror films now have different social elements that seem to not resonate as strongly with a lot of long-time fans of the medium, they also may rely on CGI and jump scares to catch the viewers by surprise.
I believe Horror Modernist films can be filled with social messages that sometimes seem to be heavy handed to audiences. For example, the themes of a masterpiece like Get Out or even more recently Blumhouse's Culture Shock, can be jarringly obvious to everyone.


Debates about race and immigration are at the forefront of our media now, which makes the timing of horror films that tackle those issues modern in nature and effective to the interested parties.
Horror Purists are can sometimes have a more rule brand approach to watching films of the genre. A horror remake to them is blasphemy, a gender or race changing is a full out desecration.

The 70s-80s were the most authentic time for the genre in a Purists opinion, and despite the hokey acting or sometimes awful looking monsters, the practical effects vibe and simple no frill stories are what they crave.
The Purists do have a point though. The era when Jason Voorhees, Michael Myers, The Candy Man, and an endless list of other monsters all made their debuts is obviously a special time for the mythos. It also created the tropes and the blueprint that even modern horror films still try to emulate.
For some people who are just looking to see a head smashed or teens chased by masked killer, social or political messages in film take you out of the experience and remind you of what you'll probably see on your phone during some idle scrolling on social media.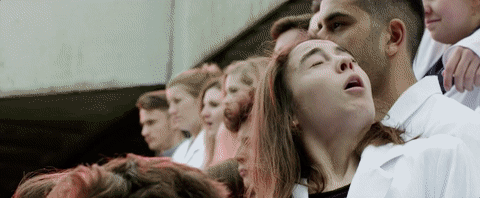 With this said, is it possible to find a central point in modern films? Can we have our bloody cake and a social message? Absolutely.
The Purge Franchise is one example that has both the political elements that are current while also being a simple story of bloody violence and twisted revenge. However, with its pop horror essence turns off some purists looking for less jump scares, and modernists looking for a slower arthouse feel. Just so we're clear, I'm not one of those people. I love that franchise.
On the flipside, films like Midsommar, The VVitch, and In Fabric are all gorgeously shot slower artistic pieces that capture a more modern aspect, while still appearing to have the practical effects violence of a classic horror film.

Purists still may be a bit held off due to the slower nature and somewhat confusing elements that those stories are known for. Again, I loved those movies too.
It's complicated time for fans. Media seems to gravitate more towards modernist styled stories while almost ignoring new films that would fit in the realms of a purist's category. Which in my opinion is a bit unfortunate, because overlooked projects like The Furies and Terrifer seem to get mentioned only as underrated gems for eagle eye observers who scour horror blogs for an upcoming bloody voyage into the darker materials.
In conclusion, there are horror films coming out more frequently now in a variety of different styles, budgets, and formats. The beautiful genre has taken the world by storm once again and we're seeing an almost endless amount of new and fresh ideas, but also some remakes of stories we've loved from years passed.
You may be a purist, modernist, or something way off either of these descriptions and it doesn't matter, because we have truly reached a peak time for fans of horror. Seek out your gruesome or subtle desire of film you're looking for by joining a Facebook page of like-minded fans and debate until your heart is content on which style of horror is best.
I mean, if that's what you're into to.
Whatever makes you happy is out there, and the best way to find out is to ultimately try something new. Check out the indies, and reviews be damned, also watch the remakes. Watch it all, support your local filmmakers, and if you're so inclined make your own stuff too.
This is the best time for the genre, because we never know what will come next or where we'll be lucky enough to stumble across it.
Sincerely,
Your friendly horror modernist/purist