Read Time:
3 Minute, 57 Second
Friendships in science fiction are often more interesting than your standard love interests, mainly because the ride or die partner(s) come in many forms.
From new unlikely mismatches to an ensemble group of separately skilled pals, friends forced into death defying situations make for some of the best films in the genre, and remind us why we love our own real life group of weirdos…
Even if sometimes they can drive us insane along the journey.
One thing is for certain, the characters that stick together during battles with aliens or other creepy monsters, are also the ones that show us what true friendship really is… or how deadly a bad relationship can be even in comparison to world ending events.
Best Friends Till The End
Attack the Block (2011)
Friendship type: Teenage Posse
Fighting mysterious creatures from planets unknown can often take a toll on a young friendships, but alien invaders seem to always learn the hard way that human teenagers make for some of their toughest foes.
Director Joe Cornish showed us that a gang of petty criminals with an inseparable bond can become heroes under the right circumstances, even when pitted against both bloody thirsty aliens and a psychotic gang leader.
One thing that makes the group of friends lead by Moses (John Boyega) special is their ability to bicker throughout the movie, but for the most part sit on the same page as a singular unit unwavering in their pursuit to save their council estate.
There was no need to show an origin of how they first met because most of us were able to figure out that they have been together since as long as they can remember, and for better or worse, were able to stick with it even in the wildest of circumstances.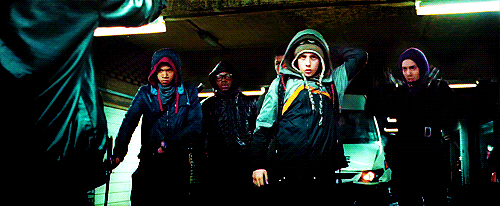 Underwater (2020)
Friendship type: Work Friends
Working with people in a crowded office can be tough, being stuck nearly 7 miles under the ocean with co-workers and sea monsters is pretty much as close to Hell as it gets.
If making that transition from colleagues to actual friends has ever been on your mind, this movie shows you that under stressful situations it becomes necessary in order to survive.
Similar films like The Descent showed horror fans the opposite can happen when you force close relationships to fight together against cave monsters, which proves in some cases, the work friend relationship can be all you need against nightmare creatures in dark places.
Kristen Stewart's character Norah fully understood the boundaries of making new friends at work, and nailed it with several different people in different sectors, while never overstepping but simultaneously willing to be there for those who needed her.
Under better circumstances, work friends can turn out to be some of your favourite people once you get over the awkward hurdles.
World's End (2013)
Friendship Type: Old Friends
Old friends are some of the most dangerous because they know all your secrets, the buttons to push, and the things about you that you're really trying to forgot.
Even years later and with changes in your life, an old friend can sometimes point out bits of your former self still evident that you may have thought were long dead.
One of the greatest stories of old friendships meets new problems came in 2013's Edgar Wright cult film The World's End, Simon Pegg and Nick Frost final film in the multi-genred Cornetto trilogy.
Much like Attack the Block the fate of the world is again in the hands of witty Brits, however in this film, the characters face aliens who are smarter and their own friendships are hanging on by a thread.
The comedic sci-fi is a ticking time bomb that builds up more and more as the movie continues, and the pay off seems to happen scene after scene in hilarious fashion.
If you are fortunate enough to have the same friends since your youth, the benefits hopefully outweigh any hangups if there ever comes a time to face off against blue blooded intergalactic robots.
As I can imagine across the world right now we're all missing our friends who are quarantined near or far, but at least 6 feet away, during this global crisis.
Whether its co-workers, your group of misfits, or lifelong pals who are scattered all over the world, here's hoping that we'll get to see them soon… and it isn't to do battle against aliens or sea monsters.
Or Orcs… let's hope none of us have to face those either.