Read Time:
3 Minute, 50 Second
Some say the best Christmas movies are the nostalgic ones you grew up with like A Charlie Brown Christmas or Die Hard, while others prefer the onslaught of annual Hallmark ones that come out for this special time of the year.
Horror and Christmas are an iconic pairing that fit together perfectly, especially for those looking to break away from traditional films that your parents may have forced you to like as a child.
If you've never indulged in watching something a bit more adventurous during the holiday season, this guide will help you navigate some of the best holiday-themed cinema outside of "Love Actually" and "Batman Returns" (I said, what I said).
Christmas Eve Night
It's the night before Christmas and the anticipation of tomorrow is keeping you up, so why not kick off the viewing with something bonkers and Finnish?
Foreign horror can occasionally take you down imaginative strange paths that Hollywood wouldn't dare to go, this movie does just that and then some…
Rare Exports (2010)
A Christmas Horror/Sci-Fi film with all the pop that you don't expect, while also delivering the family message that comes as a pleasant surprise. This flick is more bizarre than it is scary, but that works great for a fun foreign film.
It's a somewhat obscure movie even among horror circles, and if you really want to have a movie to rock your family gathering, prepare for a story that will have your mind doing some major gymnastics.
Not recommend with children because it will surely have them asking some odd questions about Santa.
Christmas Morning
You have just woken up and the morning is looking bright, Hell, you might have even gotten a fresh dusting of snow and all is feeling great. Get those presents open, pour yourself some eggnog with rum (no judgment) and spent a little time with the family.
Okay, now it's time to hop right into this, and by this, I mean —
Anna and the Apocalypse (2018)
A smart, funny, completely off the rails horror-musical-comedy with catchy hits and bloodthirsty zombies. This is a perfect way to start your Christmas Day, and also fun for the whole family… Except for any children or people who don't like gore.
Even if you don't like musicals, the hilarity of this movie comes from poking fun at multiple genres while also delivering with extremely likable and hilarious characters.
Christmas Day
Family might be over or perhaps you're doing it alone, either way, instead of spending your time scrolling through Facebook looking at other people's highlight reel Christmas mornings, take a trip back to the 80's.
Honorable mention could go to Gremlins being that it is another particularly weird 80's horror that takes place on Christmas, but there is one thing that Joe Dante's classic film was missing…
Scrooged (1988)
Do I even need to tell you why to watch this one? Bill Murray, practical effects monsters, and the late 80's comedic timing are at their peak in this film, while it also delivers a perfect modern spin to a classic Christmas story.
If you saw it as a kid then definitely re-watch it as an adult, everything about it is so much better now as a nostalgic time capsule with an overall lovely message about what Christmas is really about… Bill Murray. That man is a saint.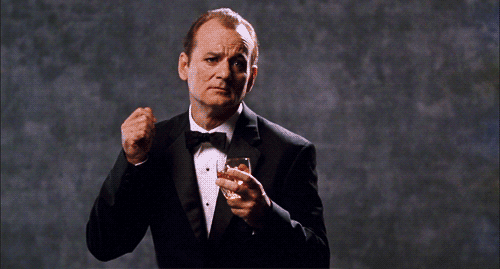 Christmas Night
The day has been long and hopefully, you got everything your little heart desired, so why not add a little more? More food, candy, eggnog, and throw in one final flick to end the evening.
Better Watch Out (2016)
This is multiple genres seamlessly slamming into one absolute thrill ride of a film. Seriously, this movie hits like a ton of bricks with multiple twists and works as a fun homage to Home Alone that doesn't feel forced or predictable.
A modern-day cult classic which stars some pretty impressive young actors, and whip-smart directing in this feature film debut by Chris Peckover.
The added greatness comes with a second and third viewing that allows you to really digest after the shock disappears from the first time around.
And there you have it, the steps to your very own Christmas day marathon that doesn't involve claymation movies from when your parents were kids.
Happy Viewing and Merry Christmas!