Read Time:
7 Minute, 53 Second
It doesn't matter if it's streaming services or going out to the movies, nowadays it is getting harder to find something due to the overabundance of content out there.
You can spend an hour scrolling online looking for that perfect scare or mind-opening movie or series, but after all that time you may just lose the drive to even give something new a chance. Which leaves you forced to return to something you've already seen 1000x before.
Does Amazon Prime have anything good there? Is the hype behind the movie you've seen hundreds of memes worth getting into? Do scary movies do anything besides getting you to maybe react once due to a jump scare?
This annoying spiral is becoming a nightly routine for many of us, and all we all want is something to pique our interest… or if you're a bit more daring, haunt our minds after watching it.
Don't let the blogs and critics fool you, 2022 has delivered on multiple occasions in both the science fiction and horror genres, and surprisingly, it has even had a back to back films and series that even surpassed the hype built around them.
I know you've been scorned before, but trust me, this list will at least be able to kill your boredom for an evening or two.
6 Movies to Kill Your Boredom Tonight
The Sadness
Available to watch on Shudder
What to expect: A bloody and fucked up ride of pure savagery. You won't be the same after seeing this movie and if you're a horror fan, you'll try to get your normie friends to watch it asap.
It is as close to Gareth Ennis' Crossed as we'll ever get, but thankfully, it has reigned in just a bit which makes for a more enjoyable experience that doesn't make you feel as icky.
Sure, there is a better way to explain that, but if you've read Crossed, you'll understand what I mean by that. If you haven't read  Crossed, it's on your homework list from me if you're a horror fan.
In Fewer Words: This is the scariest zombie movie ever created and in my opinion, it is second best in its subgenre only behind Train to Busan. Yes, that's a loaded statement and yes, that's a hill I'll have to die on now.
Does it require subtitles?: Yes. Subbed not dubbed, it's the best way to do it.
Incantation
Available to watch on Netflix
What to expect: Found footage films were on their death bed and then out of Taiwan comes this haunting masterpiece. Seriously, this one hands out nightmares in the first 10 minutes and doesn't let up the entire film.
Tik Tok is doing a good job of blowing this one up and even trying to state that watching the movie could lead to bringing ghosts into your house. Look, I'm not an exorcist, all I can say is this movie legit sent chills down my spine and made me think my house was haunted at 2 AM. I don't even believe in ghosts, it delivered so well that it had me send guessing my beliefs.
Taiwan horror films are coming in super hot with this one, and I'll even go as far to say this is the scariest found footage film ever made. Yea, yea fight me in the comment section. This movie is a perfect ghostly horror and deserves to make it to every single top 10 list this year.
In Fewer Words: If you're a lightweight horror fan, you'll need a nightlight after watching this one. If you're a diehard horror fan, you'll have a great time seeing where it all goes and be shaken to the core by some of the best performances ever delivered in the genre. Oh, worth mentioning that this is based on a true story.
Does it require subtitles?: Yes. Subbed not dubbed, it's the best way to do it.
RRR
Available to watch on Netflix
What to expect: The hype is fucking real. Not a single goddamn one of my film friends lied to me about this one. Easily the best action film of the year and holy shit, what a ride. If you hate this movie, seek help.
Visually beautiful, the best platonic love story in quite some time, and just batshit levels of creativity when it comes to super-heroics.
Made for under $100 million USD and after watching it, you'll start to think Hollywood is just straight-up money laundering because there is no way movies from America have such lackluster CGI using $300 million budgets when you compare them to this masterpiece. The Oscars either nominate this movie as Best Picture or I'll go on stage and start throwing hands at The Academy.
In Fewer Words: 3 hours long and every single scene is worth it. Every single one. It doesn't need to be shorter, I could have watched 30 hours more of the two leads dancing and beating up British soldiers. A fucking epic, we don't even deserve things this cool. Watch it immediately.
Does it require subtitles?: Yes, but some parts are in English as well.
The Princess
Available on Disney Plus (Canada) or Hulu
What to expect: It's a Rated R movie about a Princess in a Die Hard-like situation. It's a blast if you're looking for some unexpected carnage. Don't overthink it, just accept the fact that it has Joey King massacring a bunch of armed guards with a variety of different weapons.
It's just pure fun, which is okay, not everything needs to be a think piece or packed with stellar performances. Grab some popcorn, don't let your kids watch it (or do), and chill out watching grown men getting sliced and diced in this trope-filled romp with even a few laughs.
It has pure mid-90s vibes and the action was a lot better than anticipated.
In Fewer Words: Short, sweet, and Joey King needs a lot more action movies.
Does it require subtitles?: No.
Dual
Available for Rent on VOD or Amazon Prime
What to expect: Riley Stearns is a genius and we should all be talking about that a bit more. First and foremost, definitely go watch his 2019 film The Art of Self-Defense, it is a brilliant hidden gem and unique as Hell. Following that same tone of originality, I found this Dual to be just as good and even more appreciated after seeing Stearns' earlier film.
Karen Gillan is one of my favorite actors right now and this performance sold me even further due to the fact she played the dual roles in the most awkward way imaginable. The simplicity of the alternate universe that which this movie takes place is a reminder that there are no rules in movie making, and Stearns' proves that by not hand-holding the audience the entire way through it.
Characters are weird for the sake of being weird. The science in the movie is never quite explained in detail, which made it a more interesting experience than having to hear characters rifle off tons of ridiculous words to drive the point home.
The pace of the film is a bit on the slower side, but Gillan's darkly satirical performance makes every scene a good one even if there isn't a single line of dialogue spoken.
In Fewer Words: Two Karen Gillan's for the price of one and an added bonus of hilarity with Aaron Paul's character who comes halfway through the film. Definitely worth the rental.
Does it require subtitles?: No.
Nope
In theaters
What to expect: Jordan Peele amps things up on his 3rd film and no matter what, you need to see this one on IMAX.
This larger-than-life UFO epic is deserving of the biggest screen possible and if you wait around to see this one on your TV at home, you'll surely regret it.
Outside of the bombastic nature of the whole experience, you can also expect a lot of laughs brought along by Keke Palmer's character's antics played against Daniel Kaluuya's straight-man delivery. Palmer and Kaluuya should be contracted to play siblings in more things because it was breath of fresh air watching a love story in a film that wasn't a romantic one.
An added recommendation for this movie is to go in a bit blind and leave yourself open to believe in the impossible because the fun of the cleverly written story is to not try to base it deeply in our world of constant analysis.
In Fewer Words: Phenomenal cast, beautiful shots, a twist on the alien subgenre, and all-around just a great time in the movies. More than worth the price of admission and if you love it, you'll probably want to see it more than once in theaters.
Does it require subtitles?: No.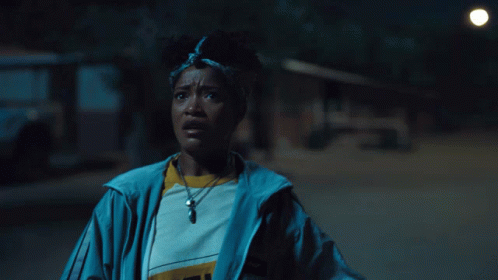 Truth be told, this isn't even my complete list of movies that I think you need to watch, so keep your eyes peeled for some upcoming podcast episodes to complete this list.
Happy Viewing and Stay Safe in the Heat Out There!