Read Time:
2 Minute, 59 Second
The horror genre is not always known for its breakout acting performances that really stick with the viewer.
Let's be realistic, some of us don't care if the actor can say two lines correctly if the scary scenes land well upon delivery, or if the gore haunts us for days later.
However, a lot of modern horror films are now expertly nailing dramatic moments that have moved the genre forward into a new age that even has garnered some Oscar-worthy praise.
Without further ado, here are 5 scenes of horror acting brilliance:
A Quiet Place – Nail Scene
This movie was a thrill ride experience that became a critical sensation for obvious reasons.
Seeing this in theatres had the opposite effect of usual blockbusters as almost every scene was tensely quiet, and this made viewing it with an audience a hair-raising ordeal.
The nail moment in the film was as tough as it gets, like Seriously, this moment could stop your heart right in its chest.
Emily Blunt is not a human being for this portrayal, it can't be possible, I refuse to believe it.
I am truly trying to not quote pop music in my writing but… In the words of Bruno Mars "Don't believe me, just watch":
Get Out – Chair Scene
Okay, this next one is an acting masterclass that was well-received enough to get Daniel Kaluuya an Oscar nomination, and even though it wasn't a win this scene speaks volumes to his immense talent.
You can cut the tension with a knife every second of this scene, and it almost makes you want to scream at the character to just leave the room immediately.
Which we soon learn is an impossibility, and that makes it even harder to watch.
Hereditary – Dinner Scene
Toni Colette was the strongest actor in 2018 for her performance in Hereditary, and that just means I was yelling at everyone who would listen about how she was robbed of a well-deserved nomination.
Seriously, I haven't been this mad since finding out Jeff Goldblum wasn't nominated for The Fly, and I truly think Colette's role in this film is incomparable to anything in the genre.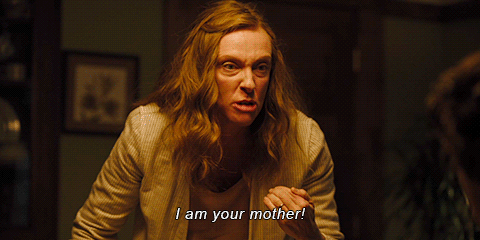 She bats this one so far out the park and the realness she breathes into every word is literal perfection.
Us – Meet the Tethered Scene
Lupita…. How the Hell can she kill two different roles in one scene so strongly? At the time of this article, the Oscar nominations have not been announced, which means I can't be mad about a snubbing yet.
If the Academy has any sense, they should nominate her twice for the same movie. I think it's only fair, right?
The Oculus – Apple lightbulb
I don't think this scene is as powerful as the previous scenes above, but I had to add it because it is one of the hardest of them all to watch.
Thanks to Karen Gillian I can not look at apples or lightbulbs the same again without thinking of this happening to me, and I also can't look at big mirrors without instantly thinking they are haunted.