Read Time:
11 Minute, 58 Second
As another pandemic year closes, it would seem the end of the utter madness is still going strong…
The one good thing that came from 2021 (besides the birth of my son) was the amount of batshit content that new and old creators delivered to us even against a rocky road of delayed releases.
Among the expected remakes, prequels, and sequels (spiritual or regular), there seemed to be some pleasant surprises that made for great viewing and much-needed distractions for yet another year living in Bizzaro world.
Narrowing down 21 picks came to be a bit of a challenge, and it would be a terrible insult to not include the debuting TV shows that had their talked about premieres this year and joined us through WTF moments that dropped our jaws collectively.
If you were not able to catch any of these 2021 picks, don't worry, this list will be without spoilers because it's been a hard year to keep up with the mountain of movies or shows you may only recognize from memes or gifs.
For further synopsis or breakdowns feel free to click on the trailers or spice things up by going into these picks a bit blindly based on my short descriptions of what makes them this year's must watches.
The choice is truly yours.
21 for 2021
Titane
Reason to watch: Daringly original, haunting body horror, and a touching love story all wrapped into one twisted and truly fucked up movie.
There is no movie that will sit with you more than this chaotic sophomore feature by cult French director Julia Ducournau, and the fact it isn't nominated for an Academy Award means the Oscars are not worth watching this next year.
Psycho Goreman
Reason to watch: Bonkers and completely no-holds-barred, this might just be the best Canadian genre movie ever created and easily the best horror-comedy that involves child actors.
For the millennials out there, it is packed to the brim with nostalgia by the way of Power Rangers-inspired practical effects, and never has a silly body horror been this self-aware while providing such a catchy soundtrack along the way.
You'll laugh, gasp, and definitely be amazed by the amount of different absolutely ridiculous monsters are in one movie.
Yellowjackets (TV Series)
Reason to watch: Coming in as closer series for a packed year of stellar streaming content, this is one show that has such evergreen potential that can pull over even your softest friends into loving the genre.
Subtly sprinkled in gore makes this a decent watch for horror fans, and the mystery of it all rounds a show that truly is addicting from the opening scene of the pilot.
Trese (TV Series)
Reason to watch: Based on the cult graphic novel series of the same name by Filipino author Budjette Tan and artist Kajo Baldisimo, Netflix's under-the-radar darkly engaging animated series is a crash course in the mythology of the Philippines introducing western audiences to a plethora of haunting monsters and ghoulish evil entities.
The lore is so deeply rich, the titular character is bonafide badass, and the brutal action makes it one of the best series on Netflix's roster even outside of an already packed anime roster.
Till Death
Reason to watch: This nail-biting feature film directorial debut by S.K. Dale is an action-driven body horror, which also makes for a strong reminder of why Megan Fox is such an underrated actor who shines brightest in dark roles.
Bloody and unforgiving, yet with only a few actors ever on-screen as it forces you to experience the ultimate day from Hell acted out painstakingly by Fox who is solo for most of the feature.
Strap in for a vindictive thriller that is beyond worth the ride, and will most certainly keep you glued to your seat from start to finish.
I Know What You Did Last Summer (TV Series)
Reason to watch: Remake horror TV series has been hitting a lot of gold over the past couple of years, and that tradition continues with this surprisingly strong teen slasher drama.
Expect deaths every episode, twists that are so left-field you would have to be psychic to predict, and an ending that leaves everyone with their jaws on the floor.
Critics be damned, it may not have been perfect series,  but it was an easy watch packed with some truly insane kills along the way and enough to keep you hooked while trying to figure out the mysterious killer.
The Columnist
Reason to watch: Making its international debut this year,  the 2019 dark Netherlands satirical horror is a 2021 must-watch because how can you not love a movie about a killer murdering internet trolls?
Director Ivo van Aart and writer Daan Windhorst's quick-to-the-point film is thought-provoking, topical, hilarious, and a definite conversation starter.
Still not sure what to expect? It's a witty take on the free speech discussion with an abundance of bladed kills, and in our climate of social media anonymity, it does an excellent job at shining a light on the toxicity of trash-talking strangers.
Midnight Mass (Mini-Series)
Reason to watch: Director Mike Flanagan can not miss and he proves it again with another brilliant Netflix anthology series, and arguably his best one to date.
Old lore is put up against religion, and if you are a fan of artistic slow burns, this is one cinematic binging journey that will have you debating character choices right up until the final frame.
Censor
Reason to watch: Prano Bailey-Bond debuts with a feature film that manages to bends your mind, dazzles your eyes with utterly stunning shots, holds you until the end with gripping storytelling…and it gives you the bloody kills your little horror-loving heart deserves.
Bailey-Bond trippy indie is a thrilling ride driven heavily by the captivating performance of Irish actor Niamh Algar, and will especially hit for any fans of beautiful shot artsy-horrors like The VVitch, Midsommar, and It Follows.
Candyman
Reason to watch: As spiritual sequels become the new norm within the genre, Nia DaCosta's supernatural thriller does a great job of paying homage to the original film of the same name, while additionally weaving the heavy topics of racism and police brutality into the modernized tale.
Much like the original, the titular character again proves why he is one of the most iconic horror villains of all time and this movie doubled down on why you should really avoid ever saying his name.
Wheel of Time (TV Series)
Reason to watch: Monsters, fantasy worlds, epic kills, and despite what online critics are saying, this is SO much more than just a Game of Thrones fill-in. Packed full of horror elements, complicated heroes, and villains who are bottom-of-the-barrel scum.
To put it mildly,  after binging this addictive Amazon Prime series you may just want to call up Jeff Bezos and demand he gives the second season all the money in the world and releases it immediately.
Squid Game (TV Series)
Reason to watch: While it seemed like the entire world sat down and watched this once in a generation South Korean Netflix series at the time of its release, the hype surrounding it was earned, and yes, this was most certainly the TV series of the year.
Even though the conversation surrounding it has died down by this point, the ensemble cast of stuns in such a way no other show has in years, and every creative choice in this blood-soaked middle finger to capitalism is perfectly done.
Hurry up with season two, Netflix!
The Green Knight
Reason to watch: After several delays and a build-up from the cult of A24 followers online, the epic Christmas movie (yes, I said what I said)  delivered in such an unexpected way that it is almost necessary viewing with a group of friends.
Dev Patel gives an Oscar-worthy performance and perhaps the best of his career as the knight pining to be King Arthur's successor, while writer/director David Lowery flips the head on what makes a hero worthy and along the way shows of numerous creatures of the darkly magical variety.
The unfolding nature of this eerie fantasy comes together flawlessly in the final moments and for all the weirdness throughout the artistic film, you'll probably want to watch it twice to make sense of it.
Brand New Cherry Flavor (Limited Series)
Reason to watch: Disgusting, vile, full of carnage, and definitely the best use of kittens in a horror series. Series creators Nick Antcosta and Lenore Zion give audiences a satirical look at the sliminess of '90s Hollywood and the cutthroat producers, which is heightened by the addition of black magic used for chaotic vengeance in such devastating fashion and nauseating imagery.
Based on the novel of the same name by Todd Grimson, it's a bold story that few may stomach but practical effects fans will almost certainly love.
Fear Street Trilogy (3 Part Movie Event)
Reason to watch: Netflix changed the game of streaming services this summer by giving us back-to-back films that are impossible to judge as separate entities, and should be considered as one connected experience.
R.L. Stine's novels (that the series were based on) were the staple of the millennials were spooky kids, and the series based on the books is a throwback to both his style of writing that molded a generation, but also films of the eras the stories take place in.
The trilogy especially shines with its homage to masked slashers and gruesome kills, with director Leigh Janiak pushing the envelope in the genre by connecting what feels like Gen X horror brutality with Gen Z diversity and social topics while still keeping it entertaining for all the horror fans in between.
Malignant
Reason to watch: In basic terms, mainstream pop horror will never be this insane and probably is only possible because director James Wan has earned the right to do whatever he wants in the genre.
What feels like a simple viewing at first turns into a frantic grab of multiple eras, subgenres, and even has one of the best gunfight scenes of the year. At the start, the overall campiness may feel a bit jarring, but by the end, it is well beyond anything you can imagine and worth sticking through.
Arcane (TV Series)
Reason to watch: This is peak animated television. That's it.
There is no other way to describe this beautifully rendered, vibrant, and utterly gorgeous masterpiece that ties together such an epic storyline on par with any animated feature film that came out within the past year.
Prepare to be blown away, everything about the series is as close to perfect as possible and the fight scenes alone seem at least 10 years ahead of any other animated adventure.
A Classic Horror Story
Reason to watch: Italian directors Robert De Feo and Paolo Strippoli make a horror film for both genre lovers and skeptics to bond over while trying to figure out which direction the twisty visceral story is heading.
This is one tongue-in-cheek look at horror tropes that make for a movie that is best watched with the friend in your life that says "they've seen it all" and nothing shocks them.
Blood Red Sky
Reason to watch:  A touching love story between a mother and son 30,000 miles in the sky is a creature feature with some serious bite to it and villains that you will love to hate.
Vampire movies needed some new blood and German director Peter Thorwarth contained story provided all the lore with none of the tropes, making for a monster movie that doesn't feel draining to the die-hard fans.
Okay, those are my last vampire puns of the year, I promise.
Invincible (TV Series)
Reason to watch: Just when you think the superhero world has nothing left to tell, Amazon drops another dark superhero series for anyone who has gotten bored of the "ah, shucks" everyone is friends style of heroics that the Marvel Cinematic Universe is currently peddling out.
The pilot end is enough to set you up for the rest of the season and from there the hits keep coming along the way with deaths of heroes and villains alike at the most unexpected moments.
Worth mentioning that there has never been a more impressive voice cast in animated series history, from Oscar winners to comedians to ultimate fan favourites only stepping in for minor yet epic roles.
The Beta Test
Reason to watch: Billed as a horror, but definitely fitting more of the thriller landscape, director/writer/lead actor Jim Cummings latest movie is both entertaining and educational for anyone looking into the film industry.
Cummings forward-thinking satire is a gripping mystery and perfectly set for the "gotcha" era of devious people afraid of their misdeeds being displayed all over the internet for the world to see.
There are some scares of the social variety, and after viewing you will definitely be thinking about the implications of the story long after.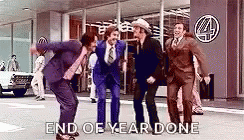 Thank you for joining me on this season of Westcoast Strange and next year I promise more articles, podcasts, and hopefully some more personal screenwriting news.
Happy New Year!