Read Time:
8 Minute, 46 Second
Spooky season is finally here!… Unless you're a die-hard horror fan, then technically it is always here.
Nonetheless, it's October and there is no greater time to cram all the horror goodness into one month of daily viewings from the twisted minds of genre filmmakers who deliver countless sleepless nights with their gory movies and series.
As the online landscape turns into countless offerings of the best watch-lists of all things creepy, the Westcoast Strange picks had to kick it to the next level by doubling and tripling your October movies.
That's right, this year's Spooky Season Selections are filled with haunting double-feature pairings, spine-tingling TV shows to binge on, and foreign films that only the bravest movie fans will be able to handle.
Fair warning, there are a lot of triggers for those looking for lighter watches, but if your aim is to truly make 2021 the scariest Halloween this is guaranteed to do just that.
*Trailers linked in the movie titles*
2021 Spooky Season Selections
Friday, October 1st
Two psychological horrors that will keep you guessing and ultimately get under your skin. Is there a better way to start this month?
Saturday, October 2nd
This 3 film event is a love letter to horror fans and packed with nostalgia, bloody kills, and some truly unsettling scenes. Get the popcorn, buy a box of cheap candy, and spend your day watching this witchy slasher trilogy.
Sunday, October 3rd
Director Mike Flanagan cements his claim as a horror master and truly separates himself from the pack with these two outstanding dives into bleak genre goodness. Midnight Mass is dramatic horror TV at its best with superb acting, a haunting story, and build-up that hits you deep into the soul, while Doctor Sleep (a sequel to Stephen King's The Shining) is a psychic ghostly spookfest that needs to be appreciated in all its 3 hours of director's cut glory. Flanagan Sunday is the perfect October 3rd.
Monday, October 4th
Prepare yourself for a double-feature about imaginary frenemies that will definitely make you not feel like you're alone in the room…
Tuesday, October 5th
Shake up your genre expectations with these two films that make you rethink everything you know about horror and do it in a fun, yet slightly chaotic, way. Beautifully shot and expertly told, these two movies are both that already have cult status and you won't be able to stop talking about.
Wednesday, October 6th
Do you think your job is bad? Check out these two science fiction horrors about the literal worst jobs and the bloodiest of outcomes on this fine hump day.
Thursday, October 7th
7 days in and it's time to get into the thick of it with some gory revenge thrillers that put you on both sides of the spectrum. These two foreign features are explorations into the proverbial "dish best served cold" and each of these viewings will leave you with jaw dropped right up until their final scenes.

Friday, October 8th
Groove your way into a Friday night as the first week of October comes to a close and these two films share very different stories about spending time with a close-knit dance troupe… be wary, there is a lot in both films that will make it extremely hard to sit through even for the seasoned horror audience.
Saturday, October 9th
The ultimate pandemic TV series for yet another Halloween living in our prolonged… well, whatever this is… but, on the plus side, this show is filled with monsters, heroes, and a strange volatile mixture of both along the way. Once again, South Korea displays why they are some of the best horror creators as this stunning 10 episode series doesn't miss a single beat and unravels a genre-defining creature feature epic.
Sunday, October 10th
Continue your creature feature weekend but add in some ghosts, time travel, historical events, and even a brief cameo from Cthulhu in this award-winning short-lived TV series. You won't regret it, minus the fact that sadly we won't get a second season.
Monday, October 11th
As today is Canadian Thanksgiving and this is a Canadian horror blog, the only option was clearly to pick two standouts by my fellow Countrymen for your viewing pleasure. Take a break from the more bleak suggestions with this double-feature that has some laughs thrown into the mix of stunning visuals and peak indie filmmaking.
Tuesday, October 12th
12 days and it's high time we journey all the way to Hell. Now, this pairing is going to make you feel some type of way and there will certainly be scenes that are next to impossible to unsee in these demonic ventures. You've been warned.
Wednesday, October 13th
Break out the handcuffs and don't look away as these two movies examine toxic relationships, inescapable situations, and have leads give grueling solo performances.
Thursday, October 14th
Pro-tip: turn off all the lights, break out the candles, and turn the volume to the max. Mortality is at the focus of this double feature when their simple setups built around what would seem like good intentions turn hellacious in the blink of an eye.
Friday, October 15th
In a word: brutal. That's what both of these are. Just, utterly and unforgiving brutal movies.
Saturday, October 16th
Day 16, it's time for some UK zombies, right? Dead Set comes from the wild mind of Black Mirror creator Charlie Brooker and a decade later it still stands as one of the best horror mini-series of all time.
Sunday, October 17th
Being stuck at home has a new meaning with these captive films about being trapped inside and wanting to be literally anywhere else.
Monday, October 18th
These kids are not alright. Powered by evil and on a path of destruction, these movies are original horrors that both spur independent franchises that hopefully get sequels. Either way, as standalone films they are the embodiment of the word epic.
Tuesday, October 19th
Murder from the perspective of the killer takes all new heights (and speeds) in both of these ambitious cutthroat masterpieces.
Wednesday, October 20th
Tonight is a full moon and watching werewolf movies is clearly mandatory. Enough said.
Thursday, October 21st
These getaways vary in their deliveries, but one thing is surely certain in both… the main characters most definitely wish they stayed home.
Friday, October 22nd
One is classic and the other is a homage to said classic. Enjoy a night of two horror comedies made for the perfect pairing and are a complete blast to match the references, even though the monsters in each movies are completely different.
Saturday, October 23rd
Easily one of the best anthology series ever created and season 2 is the perfect binge to get you in the zone before going to a haunted house if they are available in your area.
Sunday, October 24th
This series is extremely hard to stomach and beyond worth the ride. A dark look into '90s Hollywood that takes some seriously psychedelic turns and conjures up some truly disturbing visuals by way of black magic centering around a vengeful story… and you'll never look at kittens the same way again.
Monday, October 25th
This is a PSA: Do not try a seance tonight. Both films will confirm that you should leave talking to the dead alone and the results are often disastrous. Probably not a door you want to open.
Tuesday, October 26th
It would be almost sacrilege to not continue the Candyman story this Halloween, right? Director Nia DaCosta horror debut is definitely worth the watch and rounds out the final days before Halloween perfectly. As a double feature the franchise is on strong legs to continue after erasing the two other somewhat forgettable sequels.
Wednesday, October 27th
Nosferatu is one of the first and most notable entries into the genre and nearly a century later it is still spooky in its own right, while Shadow of The Vampire is a Willem Dafoe horror-comedy masterclass performance that tells a fictional story of making the classic film and the urban legend behind its mysterious lead actor Max Schreck.
Thursday, October 28th
Body horror… it's skin peeling, nauseating, transformative beauty that shines so bright in both of these movies that not only is this a perfect match for tonight, it could even be an annual tradition pairing. Every horror watch list needs practical effects monster, it's a given.
Friday, October 29th
The undying love of vampires is on full display with this double-hitter that brings true originality to the bestial creatures and is definitely a viewing that any horror fan can sink their teeth into.
Saturday, October 30th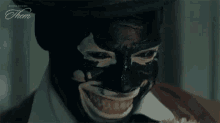 A mini-series that is as bleak, grim, and ghostly as possible to be shown on the small screen. The dark historic images of Jim Crow era America are on full display and that is only part of what makes this one of the scariest horror shows of the year.
Sunday, October 31st
Does this even require an explanation? A Halloween triple-header on the sacred night is the perfect way to spend your spooky Sunday. Watch Laurie Strode through the decades as she faces off against one of the most iconic movie villains of all time, and of course, make sure you do it in a costume.
Happy Viewing Everyone & Happy Halloween!